Home Renovations
Whether you want to increase the appearance of your home or looking to sell it for maximum worth, opting for home renovation has many perks. That's not to say that you need to go for costly renovations. You can transform any room with home renovations, custom tailored to your needs and preferences. Good home renovation services do not need to bust the budget. Consider an increase in the efficiency of your home, not its size. 
For instance, if you want kitchen renovations, perhaps reorganize your kitchen area for maximum utility. This will save you from having to blow out the walls to increase the square footage. You can also consider certain lighting solutions to increase light exposure in your living rooms without adding windows. Cutting a big space for window installation or rearranging the home decor items is not the only way to transform your living space. You should go for the least invasive and most cost-efficient ways to transform your living space.
Upgrade the Entry Way: The entry way is a critical part in making the first impression for your visitors. Thus, you should enhance the exterior appearance of your property i.e. the front door.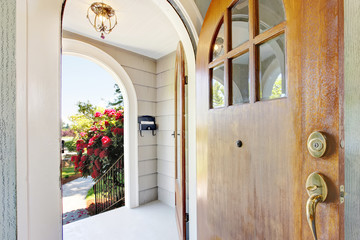 Since the front door is one of the ultimate transition areas of your home, you need to enhance its appearance to attract your visitors. Some ways to spruce up your entry way include, painting your front door, replacing the light fixtures installed in the front porch, upgrading your house nameplate or numbers and so on.
Having a welcoming entry way will add an enticing appearance to your house's bottom line and wow those who come to visit.
Beautify Your Garden: A tidy landscape and lawn are one of the most important elements of your home renovation projects that help makes your home look enticing.
Renovating the garden or landscape will revamp the appearance of your home. Pruned bushes and shrubs, trimmed grass and well-maintained gardens will add value to your home. Make sure you select plants that are suitable to the seasons in your city. As it starts to get colder, leaves change and will start to clutter your yard and garden with debris. Cleaning up that debris, dried annual and unusable fruits from your garden keep it tidy no matter what season.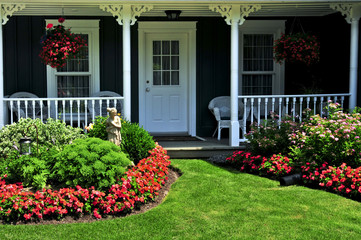 Install Easy To Maintain Landscaping: Investing in low maintenance landscaping will not only save you a few dollars, it will also benefit your future home buyers.
Landscapes that require less money and efforts to maintain require thoughtful panning. You should choose plants, structures, systems,
ground-coverings that do not need excessive watering, trimmings, weeding, mowing and planting. You can install some low-maintenance landscapes while figuring out how you are going to use your garden landscape. Consider using turf instead of grass.
Upgrade Lighting Fixtures: Consider upgrading your lighting fixtures such as the switch plates that are in your entryway and other rooms.
Another idea you should consider in your home renovation project is updating your entryway fixtures. You can upgrade switch plates, outlet covers, doorknobs and hooks. Opt for a beautiful and unique lighting fixture, soft wattage wall sconces, and other fixtures to improve the overall ambiance of the space.
Hang Modish Mirrors: Hanging mirrors is the most useful and thoughtful inclusion of your entryway. They also help make your home look spacious and vibrant.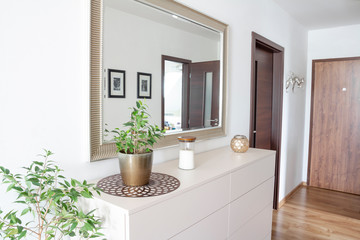 It can work as a second-chance to check yourself once more before answering the door or leaving your house. There are many types, shapes, colors, and patterns of mirrors available in the market.
You can choose between hanging and floor mirrors to add a great interior finish to your home decor.
Customized Pool: Building a custom pool can also be a part of your home renovation project.
You can build a pool area near your home garden or construct an elevated deck. Having a pool area will provide a new space for entertaining guests of all ages. You can even hang sheer curtains, install floating lights, or recreate a living wall near the pool area. These additions are sure to make your house the destination for all parties and get-togethers.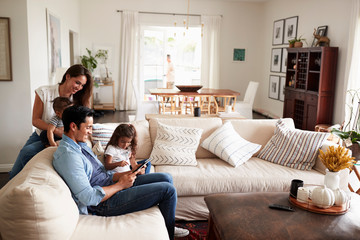 Rearrange Your Furniture: Consider rearranging your furniture present in your living room to give a different look and feel.
By rearranging your furniture in your living room, you can give your home a more comfortable and welcoming appearance. The bonus is that it has both functional and aesthetic results. Something as small as rearranging your seating area will transform the space into a completely new room.
Give Your Kitchen Cabinets a Face-lift: Invest in new cabinets to remodel your kitchen. This relatively inexpensive face-lift will transfigure your kitchen area.
While installing new cabinets may cost you big money, the end result will leave you with a new, revamped space. Choose your kitchen cabinets to be suitable to your patterns patterns of life. Consider adding slow-closing doors and drawers for a safer and quieter environment.